Titanic House is situated in the heart of Titanic Quarter adjacent to Titanic Hotel Belfast and Titanic Belfast. This iconic Victorian building underwent a major multi-million pound refurbishment and our ground floor office pods have everything expected of a modern business facility. We have four of these pods now available for lease:
Pod 2: Capacity – 9 desks        403 sq. ft.
Pod 4: Capacity – 6 desks        267 sq. ft.
Pod 5: Capacity – 6 desks        282 sq. ft.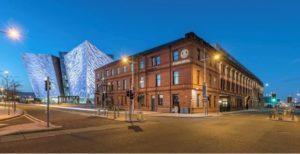 For lettings please contact: 
Lisney 
Andrew Gawley
Email: agawley@lisney.com
Call: +44 (0)2890501552
Titanic Quarter Ltd  
Richard Henderson
Email: richard.henderson@titanicquarter.com
Call: +44 (0)2890766300